Apple (NASDAQ:AAPL) is among the best performing stocks in our Stock Score rating system, and one reason why might be the predictability of its trends once key support and resistance levels are broken.
Take, for example, the bullish technical trend that formed from March through August of this year, a period when Apple share price climbed quite steadily from around $144 per share to nearly $200 per share at the highs.
As you can see, support held firm numerous times throughout the multi-month bullish trend until, finally, in early August, it was broken with conviction.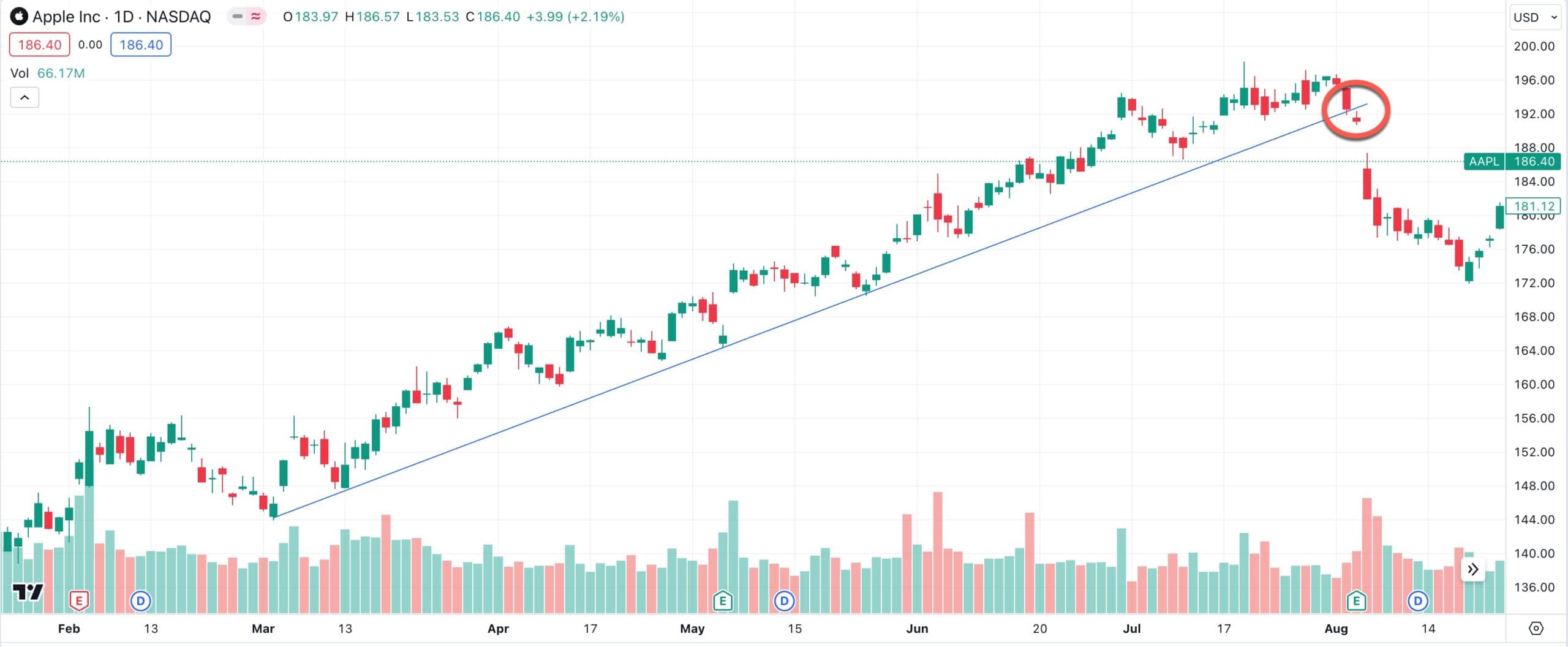 Credit: TradingView
Initially, as you can see, the share price simply closed below the support line at $192 per share, but once it did, AAPL share price gapped lower to around $182 per share the following day.
The bearish trend continued with support initially found at $172 per share and then, a series of lower lows and lower highs formed with a final low around $165 per share.
Now we can fast forward to when that bearish trend was broken by bullish action in early November.
In the chart below, AAPL share price breached the downtrending resistance line that had held strong from August through early November and then, very rapidly, surged higher.
The key level it broke to signal a new bullish trend was on the cards is encircled in green when the stock price closed above $177 per share.
So what do the technicals now say about where Apple will find support?
How To Read Apple Technical Analysis Now?
The first thing to note about Apple's most recent trend is its angle of ascent has been very sharp. No doubt, the current trend is bullish, but a reversion to the mean would be fully expected shortly before a further attempt on the key $200 resistance level.
So, what is the support level for Apple stock now? Apple's short-term daily support currently sits at $184 per share while medium-term weekly support resides at $172 per share.
Below is the chart of the daily support.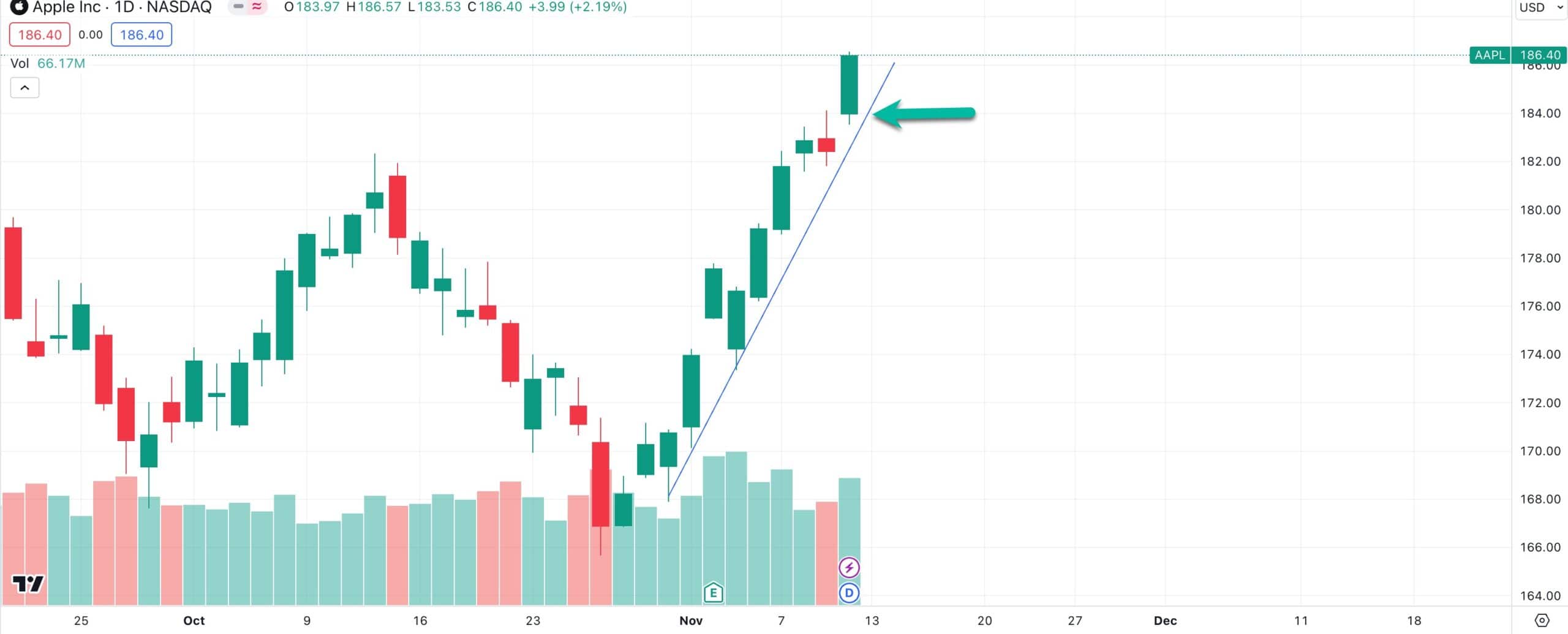 And in the chart hereunder, you can see how the weekly support sits in the low $170 region.
When you're analyzing a stock like Apple that so regularly adheres to key support and resistance levels, it's best to zoom in to daily support and out to weekly and monthly support levels in order to have a clear picture on when technical levels are violated.
For Apple, long-term monthly support going all the way back to Q4 2022 is also at $172 per share.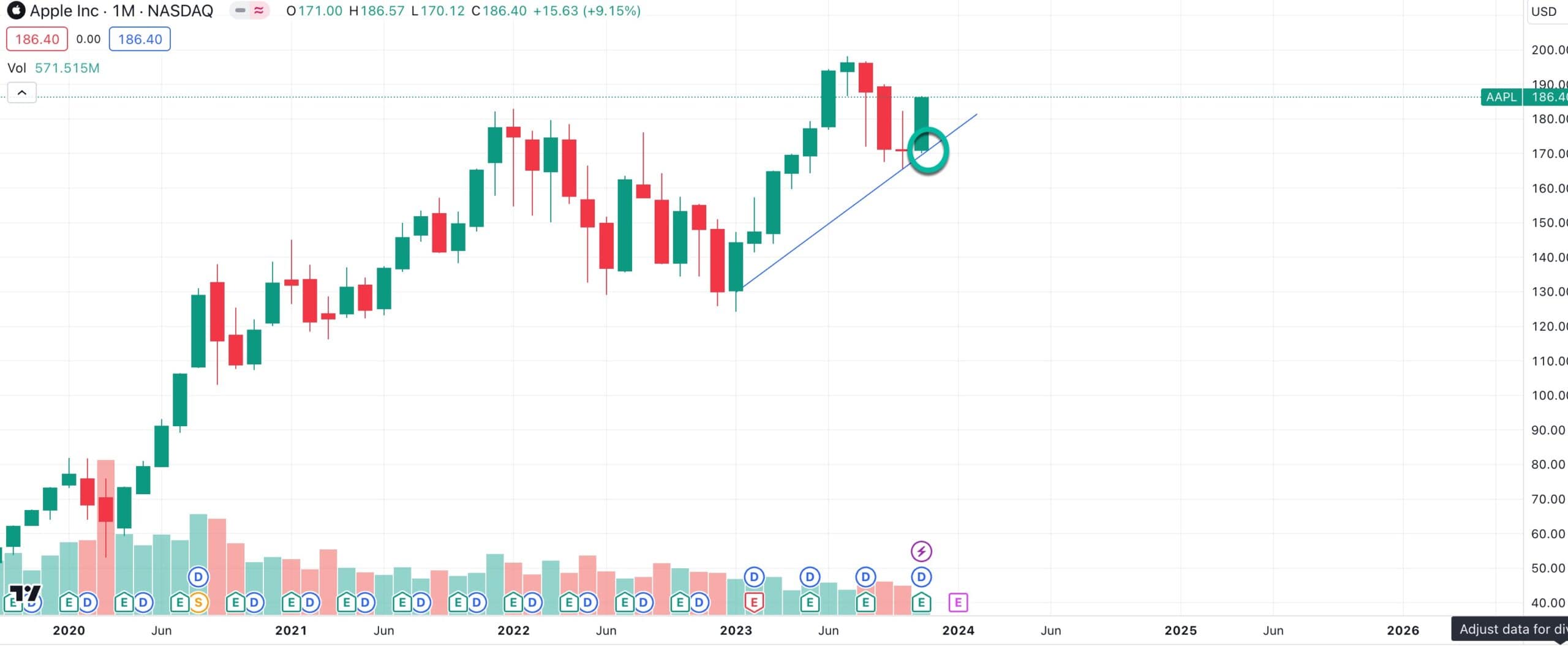 What Do Apple Technicals Forecast Now?
When you combine the short-term daily support, medium-term weekly support and long-term monthly support lines for Apple, an absolutely crucial level for traders is $172 per share because it's where both the weekly and monthly levels converge.
If that threshold line in the sand were broken, you could expect fireworks with a significant downtrend to follow. For now, though, there are no signs that support is in jeopardy.
To the contrary, Apple stock is looking very bullish from a technical perspective, and with a Santa Claus rally perhaps on the horizon, the odds favor a move up towards the crucial $200 level.
Analysts Forecasts Agree
Of the 44 analysts covering Apple, the consensus price target for the stock now is to hit $195 fair value.
It's worth pointing out a caveat that a discounted cash flow forecast analysis is not so optimistic. Indeed, it suggests downside risk for Apple to intrinsic value of $165 per share.
Nonetheless, momentum at this time of year is generally not something a trader wants to bet against. When the structural flows are moving share prices higher, it's generally best to wait for the market to turn before anticipating that it will do so.
Just because a company may be overvalued on paper doesn't mean it won't continue higher in the short-term and become more overvalued on the back of momentum pushing it higher.
Will Apple Stock Hit $200 Per Share?
During the November through early January period, very real and numerous forces support share prices, creating a seasonally bullish environment. On years when the market is up from January through to the end of October, it's typical for those forces to be especially strong.
So far, this year, the S&P 500 has risen by approximately 14.4% as of early November. That being the case, history would suggest the end of the year is more likely to be bullish than bearish.
Of course, there are always walls of worry to climb and reasons why a bullish thesis can be derailed. Nevertheless, the best a trader can do is play the upside opportunity against the downside risk, and at this time that would favor a bullish stance.
So, will Apple stock hit $200 per share? The combination of bullish seasonal factors and strong bullish trend on the daily, weekly and monthly levels would suggest $200 will likely be hit by year-end.
#1 Stock For The Next 7 Days
When Financhill publishes its #1 stock, listen up. After all, the #1 stock is the cream of the crop, even when markets crash.
Financhill just revealed its top stock for investors right now... so there's no better time to claim your slice of the pie.
See The #1 Stock Now >>
---
The author has no position in any of the stocks mentioned. Financhill has a disclosure policy. This post may contain affiliate links or links from our sponsors.